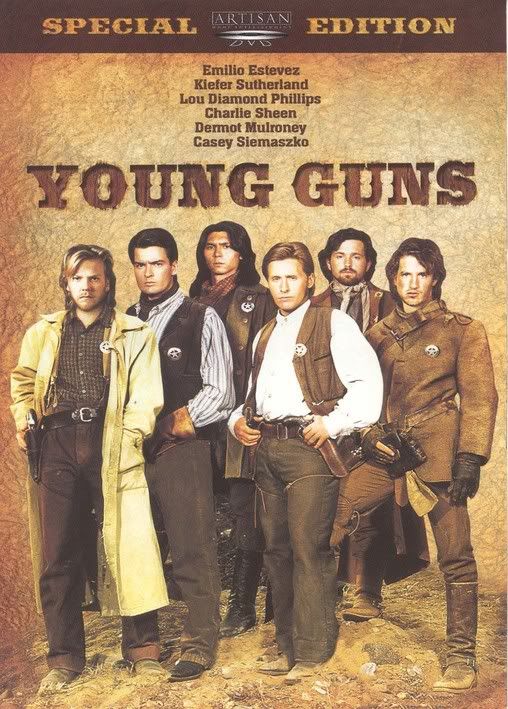 I just finished watching the movie Young Guns. I saw Young Guns II when it came out on video so long ago. I need to rewatch it because I remember really enjoying it. However, that was also when I had a huge crush on Christian Slater. I never saw the original Young Guns. I figured tonight might not be a bad night to check out Emilio Estevez, Kiefer Sutherland, Charlie Sheen, and Dermont Mulrony.
Growing up in Kansas I've known many men that should have been alive during the days of the Wild West. I have been to Dodge City and seen Boot Hill. Watching this movie, while it was decent, made me realize this era does not grab me. I've also gone to St. Joseph, MO and have seen the house where Jesse James had lived and was killed. Maybe if we are reincarinated then I don't think this would have been a time period that I would have lived in because of a lack of interest.
It was nice seeing Brian Keith and Jack Palance. I grew up watching The Parent Trap and With Six You Get Eggroll. However, I would never have guessed that this was him, however, IMDB has it in the credits and in trivia. I remember Jack Palance from the City Slicker movies and it is hard to believe he is dead. I guess that is one of the great things about movies - you are now immortal - and probably in the prime of your life. I also find it great that John Wayne's son Patrick was in the movie.
I really don't see this as a movie I will over and over again. I think I will sell it to CD Tradepost. However, I need to see how well I enjoy Young Guns II because it would be better to keep the set vs the sequal.